8 Dec 2008
I finally finished what I've been working on for the past month or so: Tempesthole version 2. Mostly I just needed a site that's easier to update and manage so that I might actually update it more than once a year. Expect updates at least twice a year from now on – every other year. As always, the new stuff shows up on the blog first, so you might want to subscribe to the feed if you haven't already.
Anyway, have a look around the new site. I like think It's matured like any fine lady should, becoming slightly more charming and considerably heavier than before. If you find anything that isn't broken (images, links, etc.) please let me know and I'll do my best to break them too. Please update your bookmarks as well.
Here's an illustration to fit the theme: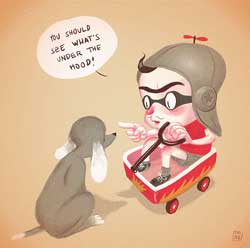 What actually is under the hood is WordPress with a custom theme specifically developed this purpose.