16 Jul 2008
On some of those foggy nights out, when the fog somehow clears up a bit, you may realize that that crowd you've been keeping isn't exactly what you thought it was.
Don't worry, it happens to the best of us. More often to the worst, though.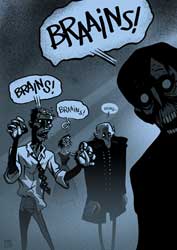 For Illustration Friday's theme "Foggy" and slightly inspired by this. (And apparently someone beat me to it slightly with his "vampire zombie" comment. Vampire zombie?).