23 May 2007
As a community activity, we're doing custom birthday cards for seven year old Shane Bernier who's suffering from acute lymphoblastic leukemia and has wished for people to send him cards on his birthday. He's aiming at 350 million cards to break the record of the current holder.
This is Shane: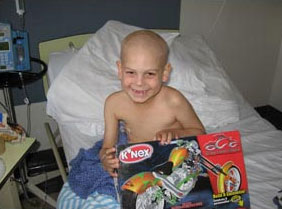 It's a nice change of pace doing something for charity. Probably one the reasons I got my lazy ass to actually doing this is that just a week ago I was exposed to this, and I still feel a little affected. Fucking awful, I'm feeling bad just typing a blog entry about that stuff.
Here's the card I came up with: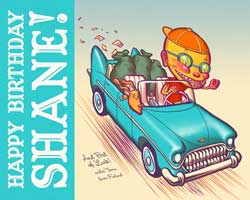 Now, Shane's birthday is in just a few days – on 30th of May – but I'm sure he won't mind cards arriving late. So, especially if you're within reasonable mailing distance, drop the boy a card.
Edit: I can't help but feel a bit like an asshole for submitting this to IF with the nature of the site being self promotion as it is. Nevertheless, it is a new piece and fits the theme ("Cars") a little too well for me to pass.
I suppose it might be a bit more exposure for Shane's effort too.