This one's sort of a tribute to the wonderful Chainsaw Maid wax animation, a healthy dosage of gore and candy colored zombies. I saw the clip a long while back and somehow the concept popped into my head now so I thought I do an image. And why not, you can't really go wrong with a sexy French maid with a chainsaw, cliché or not.
Forgot to add an apron and a hat, though.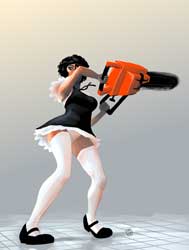 I've been playing with the idea of setting up a scene in DAZ Studio and using a render as a reference for an illustration but haven't gotten around to doing so until now. This time I did, however, and it really worked in my advantage regarding speed and probably outcome too. Much less thinking involved when it came to perspective, foreshortening and shading – even though this still just a sketch and a bit funky in places.
Crap lighting, but good enough for a use such as this. I probably took around 30-45 minutes to set up and render this scene.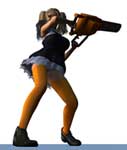 In case you don't happen to know what DAZ Studio is, it is much like the better know Poser except that it's FREE. You just need to register (again, for free) at the DAZ website, and you'll be able to download your own copy. There's a ton of free content available – including figures, clothing, hair, props – in sites like Renderosity.com or ShareCG.com as well as DAZ's own website – because for the most part DS uses the same files as Poser.
Essentially what you do with DS is clothe and pose a figure, possibly include some props, add lighting and then render the scene. It's like a "virtual photo studio". It's easy to use and good fun actually, I've ended up wasting spending a lot of time playing around with learning the program myself.