Jacob Winkler did a nice take on Superwoman at U16's CTT Turbo, so I thought I'd do a take on his take for fun. Originally I was attracted to the nightmarish quality of Jacobs image, but in the end went for something else.
I opted to go for a more practical, "realistic" design rather than the typical top-heavy spiked heels and microskirt type of designs you often see in superhero comics.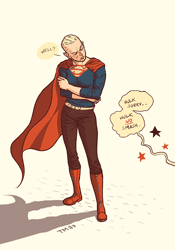 Didn't even realize that Hulk is a Marvel character until I'd already finished the piece. Oh well, same difference.