Here's a few designs for U16's "The Many Faces of Spaceman Mini" activity. Winner of the acitivity gets a Spaceman Mini of his or her own, so take part. I suspect it's going to be a bloody battle though…
The first one is based on my old spaceman design from a previous post.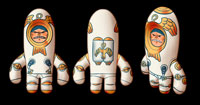 And these two are just a little kinky. I don't think they'll be going into mass production. I might do a couple more, maybe.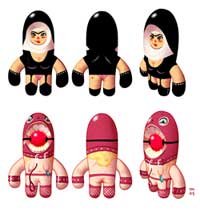 The original Spaceman Mini basic design is copyright Scott Vanden Bosch.