For the Eatpoo activity "Satan, With You Always". The theme for the activity is of course a spin on the "Jesus – With You Always" -website which depicts the said son of God watching over people in a – well – quite creepy (and unintentionally funny) way.
I figure that Satan wouldn't bother so I went for a different approach. Instead of "Satan, with you always," I present to you: "Always with you, Satan!"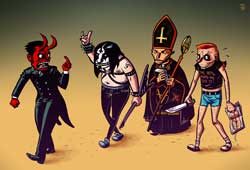 I say he's still better off than Jesus, though.