Seems like this is the Devil's week. Not necessarily a good on for him but still…
These two pieces were done for yet another forum activity. The first one is my take on Scobot's mighty fine sketch. It could either be just an allegory of life – or an epic depiction of how the rebellion of Heaven got started.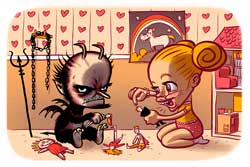 And here's my character for the next one to participate on the activity. It's not fine or epic at all, but it's really late and I need to wrap this up.