This was made for this week's Illustration Friday – Gravity.
I'm not entirely sure if this is in fact a romantic piece, or if they're just practicing for the annual Wife Carrying World Championships. If the latter is the case, I'm pretty sure another couple will collect the prize.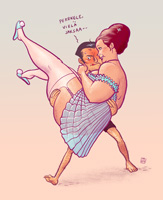 In case you're wondering – what he's saying pretty accurately translates "I'm still up for it, my dearest sweet honey pie."