14 Oct 2007
Not many people know what really happened to everyone's favorite nondescript jedi knight, Luke Skywalker. Sure there are comics, books, toys and all kinds of stuff expanding the Star Wars universe, but hey, let's face it – they're just out there for the purpose of making money, not to tell the truth.
What really happened is depicted here: What should have been a triumphant march down the memory lane right back to Tatooine after the victory of "Return of the Jedi", turned into something else. Apparently Luke had some unpaid debts he'd neglected to pay.
Boba Fett was an amateur: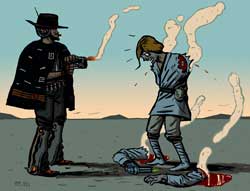 This image was done for "Star Wars Bounty Hunters" activity at the Unit 16 forums.