14 Aug 2010
Here's something a bit different that I've been meaning to finish for quite some time now. It's sort of a bastard son of the covers of the 50s & 60s men's "sweat magazines" and girls' romance comics. Mostly those magazines were produced by men and usually it's pretty easy to tell…
The illustration is a mixture of 3D and whole lot of Photoshop. I didn't actually model anything so I guess this is what you would call "Poser art". I textured the icky tentacles though. I like icky things.
Quite frankly this piece would have taken a whole lot less if I had just painted the damn thing. I had fun though, and I like the real-but-not-quite feel that the piece has, as if I had used puppets or miniature models. I don't think I could achieved the the same look for the tentacles by painting either.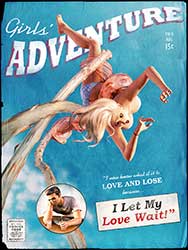 And here's a detail for a better look at the lover boy and just for the hell of it.