23 Sep 2011
I got commissioned to do an illustration for the Finnish car magazine Tuulilasi (which translates into "Windshield", hence the post title). It was for an article about a survey on where (Finnish) consumers seek information when they're considering a new car. Car magazines – against expectations – clearly turned out to be the most important source – rather than, say, the Web. Since the article was to be loaded with facts, the client felt that the illustration could have a humorous slant and not be too literal.
Of course, when I got started with the illustration the actual article didn't even exist, so there was little chance of getting too literal…
The image had a quick turn-around (only a few days, including a weekend) so I did some brainstorming, drew a few idea roughs as a pitch and send them to the client.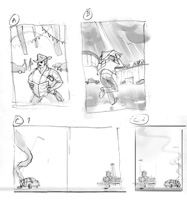 A was an Indiana Jones type of fellow exploring a temple-like car store, using a magazine as a map.
B was another guy using a magazine as a cover from the rain while running towards a car store.
And finally C shows a third guy familiarizing himself with the options after finding himself faced with an acute need for a new car.
Client went for A and after discussing what was wanted I set to work.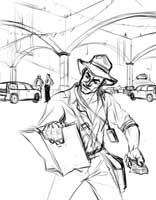 Above is my sketch and below what I ended up with – along with a quick spot illustration: