Archive for July, 2009
18 Jul 2009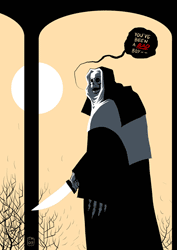 … and you've got hell to pay for it.
Another one for the CTT.
17 Jul 2009
I was away on holiday last week and happened to catch an episode of "CSI Miami" on TV.
So inspired by the myriad of expressions mastered by David Caruso, this is what I came up with for this round of the Character Tag Team after Sticmann's watercolor.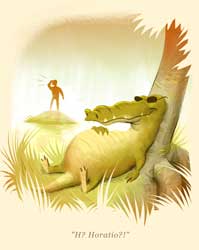 3 Jul 2009
Here's an image I did for Aava & Bang advertising agency's new visual identity. I tell you folks, this thing is HUGE – roughly 217 cm wide and 42 cm high in 300dpi resolution. That's 25638 x 4962 pixels for anyone who's counting…
It was quite an enjoyable challenge, and even more so for my old computer which really couldn't handle files this big. I had to do the final, full sized image in pieces (which the client put together with better hardware), and still the working file for the biggest of the pieces was 542 MB. Phew.

Check out some details too. These are 25% of the actual pixel size: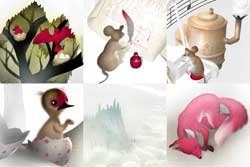 This was a fun project – very clear brief and just few minor, good changes in the sketching stage. The client seemed happy with it and I like how it turned too. There's a slightly bigger version of the image in use on their website.