24 Jun 2009
Here's someone I've been meaning to do for quite some time and who seems to fascinate me to no end: Glenn Danzig.
A bit of eerie synchronicity going on as well: Going through some biographies I just realized that I finished the image – truly unbeknownst to myself – on his damn birthday, June 23rd. So happy birthday, Glenn…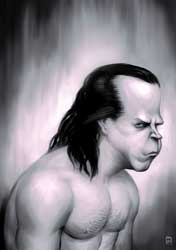 Fucking metal. Serious business.