Barack Obama's inauguration will be happening tomorrow January 20th, which means the good ol' boy in power will step down too.
So, goodbye Bush – don't let the door hit you in the ass. Hope the next time we hear from will be when you're put on trial.*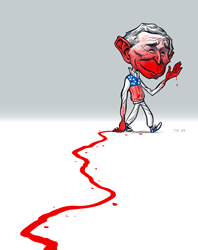 In the mean time, the Guantánamo Bay detention camp is still running with full steam. You can sign a petition to challenge President Obama to close Guantãnamo, put an end to illegal detention, torture and impunity at Amnesty International's 100 Days Challenge website. It only takes a minute to do it.
For more info about Amnesty's framework to end illegal U.S. detentions check out tearitdown.org.
*) Not holding my breath, though.