– Where's your hat, soldier?
– I, um, misplaced it. sir. And I'm actually cavalry, sir.
– Cavalry? Then where's your horse, man?
– Uh, hmm you see, sir  …
– Ungh, don't tell me. I bet you'd lose your head too if it wasn't attached to your shoulders.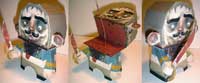 This is a custom design for Christopher Bonnette's Squealer paper toy. Since Halloween is coming up shortly, I thought I'd something to fit the theme. Live by the sword…
Anyway, here's a low resolution version of the template. You can download a printable PDF here (about 1MB). For instructions on how to put it together visit Christopher's site for a tutorial.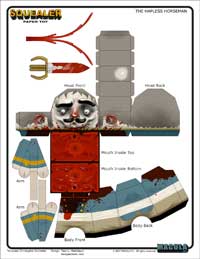 Thanks to Christopher, who put the thing to together and took the photo too.