Well, old west gun fighters were known to meet premature deaths. If you were too good of a gun, though – a piece of lead might not have been the thing that proved fatal in your lungs…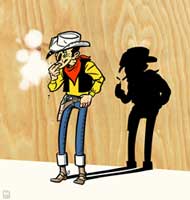 Inspired by a girl I see smoking outside my window every work day. She always looks like she's freezing her skinny ass off getting her regular dose of nicotine and tar.
Did this for Unit 16's Western Activity, but it also fits Illustration Friday's theme for this week: "Pet peeves." How convenient! Not my pet peeve, but then again pretty much all public, indoor spaces in Finland are smoke-free these days.