23 Nov 2007
Here's a bit more catching up with forum activities. U16 has had a "Masters of the Universe" redesign activity and already sketched these a couple of weeks ago for it, but only now had time to finish them.
Actually Skeletor is the main star here – or Aviator General Skeletor as I dubbed him with the redesign. The shoulder pads and the crotch piece of the original design reminded me of feathers, so I went for a bird motif. Conveniently, with a different name and color scheme he could well fit in another story as well. I imagine the world the MOTUs would live in would be a mixture of the Napoleonic era, WWI, magic and weird gizmos.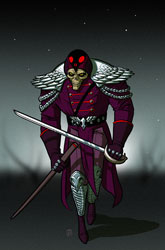 And then there's He-Man. He was kind of dragging himself along with the Skeletor design, but as you can tell he's still slightly sketchy.
He's hard to make look cool or charismatic like the leading man should be, considering the original design basically comprises of steroid muscles; sissy looking hair style from the Middle ages; S&M armor and solarium tan. He's like Conan's uncool, Californian little brother without any personality. I don't know if my version feels any more like a person, but at least he's wearing pants now. It's way difficult to look noteworthy (well, in a good way anyway) when everyone else is properly dressed and you're running around in your panties.