Some more sketches are to follow. The first batch is from my trip to my folks' summer cottage, to celebrate the midsummer. I had a nice trip just sitting around doing nothing, except for some random sketching.
The first one was drawn on train with no other purpose except to fill the time. Lots of fun and a bumpy ride.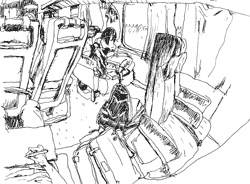 The next two are from the cottage. The first was drawn with a brushpen, which I haven't really used before and which might work better with smoother paper. The second on has a bad composition, that I'm trying to hide with some Photoshop shading, hahhah.
And last, attempts on caricatures of Something Awful goons for an Eatpoo weekly. The problem is that I 'm not very good at doing caricatures and – with the way those goons look – I think I just ended up normalizing them instead. Witness some poor attempts with graphite, gouache and watercolor. Now I remember why I stopped sketching with a pencil – it always smears and makes a mess.