28 Apr 2007
It's been fucking long since the last time I've posted. I guess my motivation ran off with another man. Good times, bad times.
Anyway, to stop the the tail-spin I managed to whip out some sketches of my favorite superhero (whose comic I practically don't read). So here's a pinup of Batman and Catwoman standing in snowfall for some unknown reason. Maybe Batman forgot his keys to the Batmobile and Catwoman is just about to gleefully dump him and take off with her Cat-van.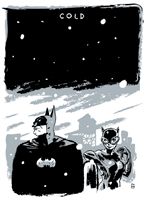 And here's just another crappy sketch of Bats. I also did a Joker but he turned out too bad even for this blog.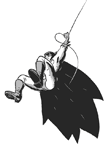 UPDATE: Revised the Catwoman a little – her arms looked awful and what was I thinking with the whip.