17 Mar 2007
While I normally frown at all obnoxiously loud, aggressive and rude lowbrow music like "rock", "metal" or – heaven help me – "punk", I've found myself fascinated by the gentle rhythms and touching lyrics of the psycho punkabilly band Mad Sin's latest album "Dead Moon's Calling." So much in fact that I felt like doing some obnoxious rock 'n' roll art of my own.
So I came up with my own Psychobilly Guitar Slinger that plays faster than Lee Van Cleef draws his Colt – and louder than six Motörheads put together. He doesn't need a name; he's so cool that even hell freezes over him – and when he strikes a chord, even fucking angels fall off their clouds and in love with him.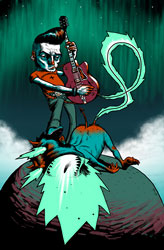 And as a bonus image, here's a quickie I did long ago. She's not someone to fuck around with either.