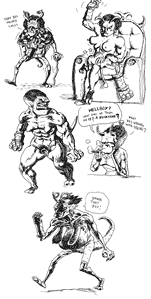 Showing a never failing talent of making myself look bad I present to you: Hellmommy! Right behind you Martti!
Over at Eatpoo forums someone started a thread "What if Hellboy had a Sister…" and invited people to draw their versions of Hellboy's (by Mike Mignola, of course) sister. Well, I figured if Hellboy had a sister, they'd also need a mom. Hence these masterpieces of comic book fan art.
Can you find all the mistakes in these sketches? I keep finding new ones every time I look at them. You know, all the best art just keeps on giving!