30 Jan 2007
Ever found clothes that you have absolutely no idea who they belong to and yet somehow are still mixed with yours? Like someone's swapped one of your manly, perforated, black socks to a worn-out old woman's support bra that you could store bowling balls in?
Yep, back to the public washing machine.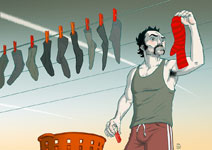 This one was also for Illustration Friday, this week's theme being red.